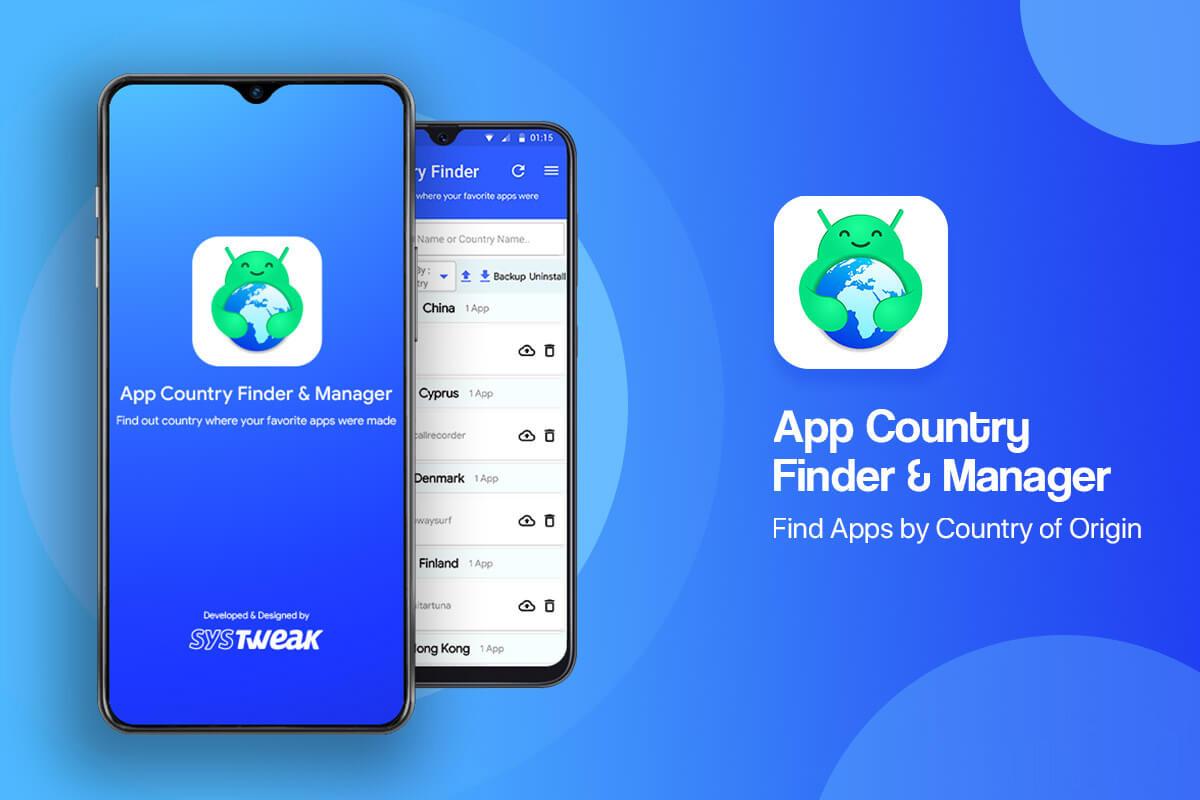 There are apps that we like or dislike and wish to find similar apps from the same developer. If we build trust in an app developer, we can always find their latest release and install the most useful ones on our device. But it is not that easy to find app developer information if it is not mentioned on the apps About Us page. Some apps mention developer information on the home screen but not all of them does so.
If there are certain apps that are banned in your country, you may not know about them if you don't know the app developer information. If you know the app country name, you can decide to download or not to download the app or segregate the restricted apps before moving out of the country. Here in this article, you will get to know how to find out the country of the origin of an app for Android devices.
App Country Finder & Manager
Designed By: Systweak Software, India
Required OS: Android 4.1 or later
Released/Updated: 14 Jul 2021
Current Version: 1.0.2.49
Size: 16 MB
Price: FREE
Download Link: Get it Here
App Country Finder and Manager is one of the best-trusted sources to find app developer information. Even if the app developer has mentioned false information on their apps, this will fetch and find out the real origin of the app. In some countries, you may need to pay a lot of money as fine charges for using unauthorized apps. To avoid this, you should have the app information and get rid of the apps before moving into the country.
App Country Finder and Manager can fetch information of all the apps installed on your Android device without you opening the apps developer page one after another. This app is not just limited to finding the app country name. There are multiple intuitive features to help you use other apps and manage apps wisely. Let's explore the features and why you should have this app on your Android device.
App Country Finder and Manager Features
App Country Finder will amaze you with a lot of intuitive features to manage your apps.
Easy to Use Interface
App Country Finder has an intuitive interface that lets users dig out the app developer information, app country name of installed apps as well as you can list out popular apps by country. All the tabs, scan results, a number of apps created by country can be easily viewed and listed. You can also click on the country to list out all the apps designed by a country.
Quick Scan & Deep Scan
The algorithm is programmed to scan and list out all the apps developer information in a fraction of seconds. It performs a quick and deep scan to dig out the origin and country information of over 160+ apps within a minute. Isn't that fast and easy to scan?
Organized App Listing
Whenever you install App Country Finder and run a scan, it checks all the installed apps on the device and lists them out in an organized manner with their country information. There are different sort options to sort by Country or by App Name and options to take a Backup or Uninstall the app from the console.
App Search Bar
At the top of the console, you can find a search bar to search for the app information or search by country for different apps installed from the play store. This intuitive app can search and list out all the apps by country or search for a particular app that is pre-installed on your device.
Delete & Backup Apps from the Console
As soon as you tap on the delete icon in front of any app, it confirms if you really wish to delete the app. If you again tap on the Delete button, it will delete the app from your device. For example, you wish to delete all the apps from a specific country, you can tap on the delete button under the country category and confirm the deletion. The little cloud icon in front of the app is for taking a backup of the app. After taking a backup you can delete the app for a specific time period and then reinstall it once you are back in your country. It will load the backup file!
How App Country Finder Works
Step 1. Open Google Play Store on your Android device.
Step 2. Search for App Country Finder, download and install the application.
Step 3. It will scan and list out all the installed apps by their country of origin.
Step 4. Take a backup of the apps you wish to continue using further.
Step 5. Delete the apps that you don't want to carry in a different country.
Summing Up
App Country Finder & Manager is an intuitive resource to get app developer information and figure out app country names. You can use App Country Finder to get information about the country of origin, and Backup or Delete the app from your device.