No matter if your computer has gone old and is not working smoothly anymore, you can still recover photos from it. Surprised? Well, don't be! It is possible with the methods that we are going to share with you and you can then recover deleted photos without bothering yourself anymore. As we know that photos are close to our heart and memories are precious, some technical glitches of your old computer cannot take them away from you.
How To Recover Deleted Photos?
There are some powerful software which runs through your Windows computer easily in order to retrieve deleted photos. Without further ado, let's get to the list of software which helps in restoring deleted photos from old computers.
Systweak Photos Recovery
Very simple and effective tool, it is absolutely compatible with Windows 7, 8 and 10 and even Android phones. The reason why it is placed at the top of this list is because it has a simple and navigable interface, restores deleted photos from memory cards, USB flash drives, hard drives and more. One can easily recover RAW file formats from cameras and don't need to worry about anything.
Moreover, you can preview the photos before recovering them with proper details of image width and height. Even if your hard drive was formatted, the deep scan method is capable of retrieving deleted photos. Although one can only get their system scanned through trial version, it is necessary to buy the product for complete recovery of photos.
Stellar Photo Recovery
Stellar is already holding up the trust for about 3 decades now and you can totally rely on this for photos recovery. Starting with a simple and intuitive interface, this software is totally suitable for beginners as well as advanced users. Not just photos, you can even get back email files, office docs, audios, videos and more. If you wish to scan only a specific location, you can even choose the same.
It also possesses deep scanning capabilities to find deleted images and other files for much better and accurate results. Quick recovery is better with disk imaging and thankfully, this software provides the same.
EaseUS Data Recovery Wizard Pro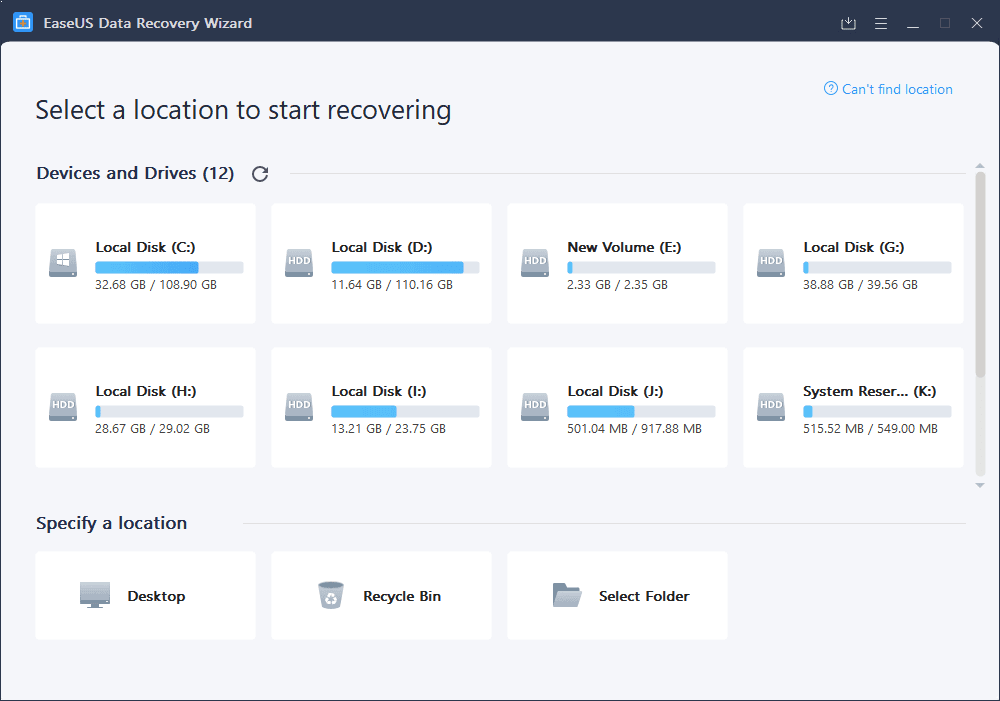 If you have an inaccessible partition in your computer which shall be scanned for recovery of deleted photos, EaseUS is the perfect choice. You can even recover photos from recycle bin or other files which went away due to crash or virus attack. The good part is that this software doesn't consume a lot of resources from your computer and saves space as well as energy.
The interface is also pleasant to look at backed up by the powerful algorithm of the recovery wizard and famous name of EaseUS. Although the price may look higher to many but the trustworthiness is certainly considered well.
Advanced Disk Recovery
Another one from the house of Systweak, Advanced Disk Recovery is a trusted and reliable tool which can perform in-depth scanning on old computers, hard drives, and any other removable device. Because the interface is quite detailed and understandable, even a novice user can go through this tool without bothering themselves.
The quick scanning and deep scanning is certainly good for easy scanning of the system. Moreover, it is very affordable and can not only find deleted photos but also other deleted files like audio, video, documents and more. A wide range of file formats are supported making it unique from its competitors.
Wondershare Recoverit
With strong compatibility of Windows 7, 8 and 10, get high recovery possibilities with Wondershare Recoverit. Where you can get customer support whenever you need, get all your data recovered from an old computer, removable hard drive, flash drive, SD card, HDD, SSD, etc. If your recycle bin has been cleaned out and you feel that photos from here cannot be taken back, Recoverit is your best chance to restore.
It supports over 1000 file formats which can be recovered within a matter of minutes. However, extracted data is tough to recover using this photo recovery software, the process of recovering rest of the data is simpler to use. Thanks to the modern and sleek interface at the top, one can get most of the things back in the system smoothly.
Wrap-Up:
If you ask us at the end of this list which is the best photo recovery software to retrieve deleted photos from old computers, we would recommend you to try Systweak Photos Recovery as it is specifically designed to recover photos. Moreover, if you wish to get other data back along with deleted pictures, other tools like Advanced Disk Recovery and EaseUS can also be used. After reading this article, which one photo recovery software do you think you would choose; share it with us in the comments below.