India is at the forefront of the budding startup ecosystem globally. 
This growth spurt has paved the way for coworking spaces to thrive. New coworking spaces are emerging to fulfill the needs of small businesses, startups, freelancers, and enterprises. 
More businesses are turning towards leveraging coworking spaces to thrive amongst a like-minded community and save costs along the way. 
Coworking spaces are known for their flexible offerings that include various amenities. It reduces the infrastructure costs for small businesses and individuals while also providing a common ground for networking and social opportunities. 
However, growing demand has birthed numerous coworking spaces across India. To choose one, you need to know some of the top coworking spaces in India, their locations, benefits, and amenities.
Let's check them out. 
Spanned across several locations in major cities, The Address is a premium coworking space that is ideal for growing businesses and enterprises. Since its launch in 2018, it offers custom coworking solutions along with a vibrant work environment. It offers dedicated desks, private offices, individual cabins, and virtual offices. 
It also has a long list of amenities that include event halls, a cafeteria, common and lounge areas, stocked pantries, etc. The space also organizes monthly events to keep the teams engaged. Its focus is strong on providing a communal environment and encouraging networking within businesses and startups occupying the coworking space. 
Current and Upcoming Locations: Ahmedabad, Vadodara, Surat, Indore, Hyderabad, Mumbai, Pune, Noida, Kochi, and Nashik
Awfis is one of the most renowned coworking spaces in India. The coworking space was launched in 2015 with the intention to provide dedicated workplace solutions. It provides affordable plans with membership options ranging from hourly to yearly basis. The best part is, you don't have to deposit any security deposit. This offers freelancers and small businesses to reap the benefits of a physical workspace without incurring high costs. 
It provides virtual offices, meeting rooms, flexible seats, fixed seats, and meeting pods. Awfis also takes care of the requirements of small freelancers to big enterprises by providing different packages. 
Locations: Delhi, Bangalore, Hyderabad, Mumbai, Ahmedabad, Chennai, Pune, Kolkata, Kochi, Jaipur, Chandigarh, and Gurgaon. 
91SpringBoard is a coworking space for some of the world's biggest corporations. It provides pay-per-use plans and is specifically built to fit businesses and enterprises from various industries. It provides cost-effective customizable office solutions that focus on enhancing team productivity. 
91SpringBoard caters to the most basic and advanced needs of working professionals such as conference rooms, high-speed internet, gaming rooms, and 24*7 office spaces. 
Since the coworking space provides a range of solutions for small businesses and enterprises alike, it addresses your needs when you have to expand your business and teams. 91SpringBoard provides businesses with networking options with its wide community of corporate mentors and entrepreneurs. 
Locations: Delhi, Mumbai, Navi Mumbai, Goa, Bangalore, Hyderabad, Gurugram, Noida, and Pune. 
WeWork is renowned internationally for providing premium coworking spaces. Based in New York, WeWork has expanded over the past decade and is bringing global standards to its coworking spaces in different countries. It provides office spaces to even Fortune 500 companies that are leveraging WeWork for a reimagined workplace. 
WeWork's coworking spaces ensure top-notch infrastructure and design that exude productive vibes. It includes flexible and dedicated desks to accommodate small and independent businesses as well. The coworking space organizes wellness and networking events to foster an exchange of ideas and boost productivity. Some of its top amenities include event spaces, a recreational center, conference rooms, etc. 
Locations: Mumbai, Bengaluru, Gurgaon, Hyderabad, Noida and Pune.
As its name suggests, the Innov8 coworking space was launched with the motive of fostering innovation in startups and entrepreneurs. The coworking space boasts contemporary designs, digital-oriented culture and a community-driven approach. 
Innov8 provides customizable solutions that range from private offices to dedicated desks and meeting rooms to event spaces. The spaces are well-equipped with all the necessary equipment and infrastructure for new-age businesses and digital nomads. Its event zones facilitate businesses to host mentor sessions, innovative talks, book launches and conferences.
Locations: Navi Mumbai, Pune, Delhi, Hyderabad, Bangalore, Noida, Gurgaon, Chennai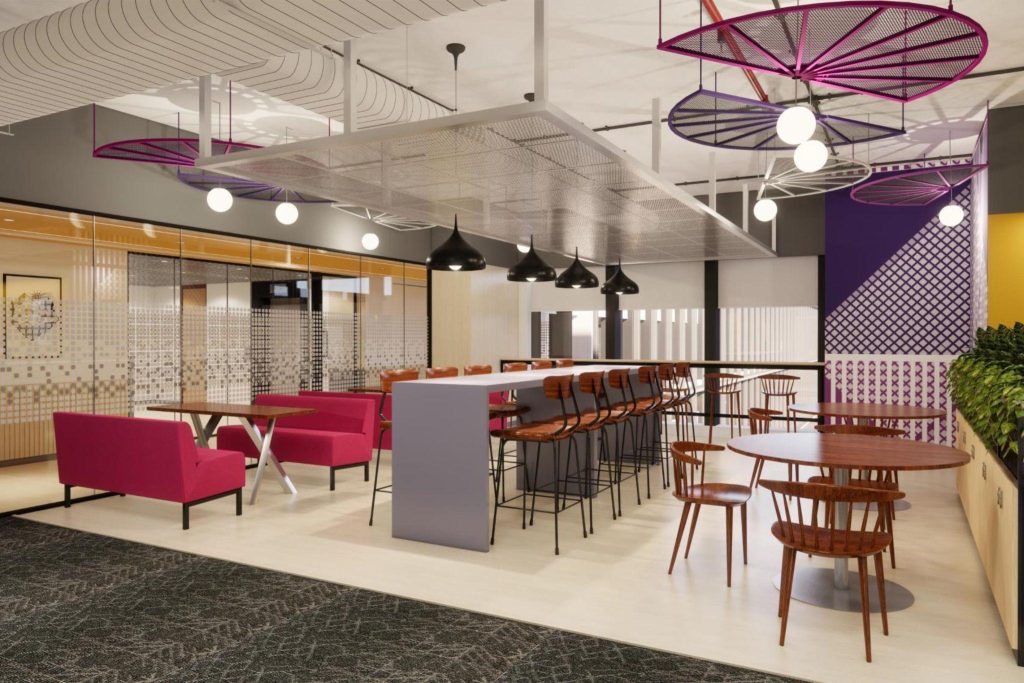 Smartworks coworking space has a chain of coworking spaces across major Indian cities. The coworking spaces are equipped with advanced technology and value-added services. Smartworks' coworking spaces are strategically located in respective cities and cater to the exact requirements of today's companies and startups. 
Apart from the state-of-art facilities, meeting rooms, and event zones, Smartworks also provides gaming zones and gym facilities at all its locations. It provides dedicated workstations, and virtual offices and organizes regular seminars and workshops to keep the employees engaged at their workplaces. 
Locations: Bangalore, Chennai, Delhi, Hyderabad, Indore, Jaipur, Kolkata, Mumbai, and Pune
InstaOffice is one of India's fastest-growing networks of serviced offices and coworking spaces. InstaOffice follows its core philosophy of 'Happy Offices'. To meet its value, InstaOffice organizes community events, partner benefits, and unwinding sessions. It provides all the facilities required for small businesses and startups. 
The icing on the cake is their events are hosted for small businesses and changemakers where like-minded individuals gather to network, inspire, and discuss new ideas. 
Location: Gurgaon, Bangalore, Delhi, Noida, Hyderabad
DevX is a leading coworking space in India that offers professional working zones and spaces for businesses and startups. The places are inclusive of the latest technologies combined with efficient management and 24*7 availability and flexibility. DevX also provides a startup accelerator and incubator that guides businesses on their expansion plan. 
DevX is home to a budding networking community where individuals and small businesses can find potential clients and mentors within the premises. Some of its top facilities include makerspace, standing desks, daycare and Gym, phone booths, a game room, an auditorium, board rooms, and a library. 
Locations: Ahmedabad, Vadodara, Mumbai, and Hyderabad.
Workafella is an office space that businesses can leverage 24*7 with its furnished suits, professional housekeeping services, training and meeting facilities, and recreational centers. The idea is to provide businesses with an energetic and innovative environment to foster fresh thinking, collaboration and networking. 
Workafella also provides dedicated desks, hot desks, and private offices to its growing vibrant community of coworkers. It also provides gaming zones, gyms, and event halls to cater to the team-building activities of businesses. 
Location: Chennai, Hyderabad, Bangalore, and Mumbai
IndiQube is the perfect coworking space for emerging startups with limited teams and freelancers who have limited office space requirements. The coworking space allows quick and seamless transactions with open workstations, individual cabins, and meeting rooms. 
IndiQube also provides training rooms for workshops. It is located in prime locations with close proximity to public transportation and centrally located restaurants. With high-speed internet, meeting rooms, and accessible housekeeping, IndiQube fulfills the requirements of businesses in a coworking space. 
Location: Bangalore, Mumbai, Pune, Hyderabad, Chennai, Delhi NCR. 
Finishing Thoughts 
Although you will find a range of coworking spaces in India, understanding each of their specialities and benefits is essential to choose the right space for your business. So gauge your requirements for costs, amenities, and location, before choosing your ideal coworking space partner in your city. 
The right coworking space can provide a vibrant ecosystem that enhances the social development and engagement of your employees. It can provide you with an environment to work amongst the brightest minds and thrive in your professional endeavors. 
Author Bio
Aanya Rachel is the Content Manager at The Address, a coworking space in Ahmedabad, Gujarat. She is passionate about sharing her knowledge, experience, and extensive research in this field. She writes on a wide range of topics related to coworking, the growth of remote workers, startups, and real estate.